Shopping
FashionTV's 'must have' Gifts for Valentine's Day
Love is in the air and with Valentine's Day just around the corner – here is your opportunity to celebrate it! Whether you are a new couple or in an established relationship, this is a day that shouldn't be taken lightly.
Take few minutes and think about what you can give the one you love.
If you're need of extra assistance, FashionTV has compiled a list of kitschy, sexy and super lovely Valentine's Day gifts.
Jewelry is for Lovers
You don't need a special day in order to give your sweetheart an amazing ring or pair of earrings. Heart shaped rings, necklaces and bracelets can be perfect on Valentine's Day. This fashionable jewel will remind you how big and great your love is.
Marc by Marc Jacobs Mini Charm Heart Stacking Ring
Marc by Marc Jacobs Mini Charm Heart Stud Earrings
Alluring Lingerie
The ultimate 365 days present. Though this is an obvious Valentine's Day gift, it includes almost 100% guarantee for a hot night between the sheets. A new set of sexy lingerie, lace chemise, garters, underwear are just a short list of the sexy option you got. One thing is important – in order to be Valentine's Day underwear, it should include hearts. As many hearts as you can…
Heart Pasties (Red)
Hot Tub Seduction
One of the most romantic and appropriate activities for Valentine's Day is taking a bath together. This is the best time to plan for a sensual bath. You can either go for the soap and oil set, or perhaps you prefer a smooth and comfortable bathrobe that will keep you both warm once you go out of the water. Either ways, this is a quiet and relaxed plan for this upcoming day.
Lovely Accessories
Handbags, sunglasses, high heels, ties and scarves are just some of the valuable accessories you can choose from. Not do these little things can make you look different every day, they can also provide fresh and trendy touch to your appearance.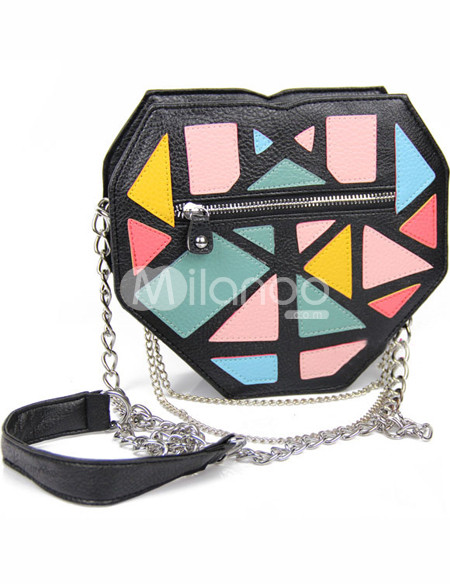 Colorful Heart Shaped Zip PU Women's Shoulder Bag
Sweets for Your Sweet
Chocolate is one of the pleasures that can also stimulate your senses. Not many are familiar with the fact that chocolate is one of the most sexually arousing foods. If the chocolate comes is a red heart shape or in any other lovely icon of the Valentine's Day, it can play both as a tasty desert and as an appetite developer...
Time for Love
An elegant luxury watch can make a serious impression. It may only be an accessory, but most of the time, it's the first thing people will notice. On this special day, you can give your lover a beautiful and meaningful watch that will remind her how much you love each and every second of the day. Valentine's Day watches may come in red, but that doesn't mean this must be your choice. If this is not one of her favorite colors, pick something else. After all, love comes in many various colors.
Ed Hardy Valerie Limited Women's Watch
The Classic Approach
True, this is a very old and kitschy option, but it still works as a magic. A nice bouquet of roses and a good old bottle of red wine can get you into a super romantic mood. Add to that a personal note and … that's it. Who said that traditional ways to express your love are not effective at the 21st century?
10% off all Valentine's Day gift baskets at Wine.com! Enter VDAY10 at checkout! Valid through 2/14/12!
Now all you have to do is go and celebrate the miracle of love.
Visit our Fashion Shop for more fabulous Gifts!!
Fashiontv wishes you a happy and full of love Valentine's Day!