Model of the Week
Punk Princess Alice Dellal | Fashion TV's Model of the Week
If punk princess, socialite, drummer, and model Alice Dellal is at the party, you know it's THE place to be.
First Chanel, then Marc by Marc Jacobs, and now Dr. Martens, Dellal is proving to be a favorite amongst designers this year.
Age
: 25
Signature look:
Biker jacket, shaved undercut, nose piercing, ripped tights
Reputation:
Glamorous hellraiser
Fashion Fact:
Dellal's mom is a model. Her sister designs shoes under the name Charlotte Olympia. AND her godfather is Mario Testino.
Model Alice Dellal is all about angles, attitude, and is no stranger to the camera. Born in Brazil in 1987 to Brazilian model Andrea de Magalhaes Viera and Guy Dellal (son of multi millionaire property developer and gambler 'Black' Jack Dellal), the family's reputed name and unconventional lifestyle has kept the Dellals in the spotlight in more ways than one.
When she's not busy drumming for her band Thrush Metal, causing havoc at socialite parties with best-pals the Geldoff sisters, ex-boyfriend James Jagger, and fellow British model Agyness Deyn, Dellal is busy changing the image of classic fashion houses, with her outlandishly grunge style, tattoos, and piercings -- making her one of Britain's most intriguing young models on the circuit.
Model Moments
Dellal began modelling at the age of 17 for photographer Will Whipple, who first captured Dellal sporting a number of risque looks -- a signature feature in her later shoots. This was to be the kick-start of Dellal's modelling career. Not long after, Dellal appeared in a French Vogue editorial, acting as a muse to Mario Testino, who continued to work with her on numerous shoots. She later signed up to Select Models agency in 2006 and quickly got snapped up to work for Burberry's Fall ad-campaign the same year.
She has since fronted campaigns for Agent Provocateur (rumoured to be replacing Kate Moss), featured on the cover for Dazed and Confused, modeled for Alexander Wang's Uniqlo collection, and posed for French, Japanese, and Italian Vogue. Did we mention her appearance in Primal Scream's "Can't Go Back" music video?
With her petite frame, and standing at just 5'5", Dellal defies all things conventional, even in the world of modelling, and got her first taste of the runway walking for House of Holland at the Fashion East show. Dellal's catwalk appearances have also included rocking Vivienne Westwood's Red Label collection in London 2009, the Spring couture Valentino show in Paris 2010, and closing the Fall Issa show in London the very same year.
Dellal Now
With her unorthodox appeal, party wrecker attitude, and exquisite features, FashionTV can't get enough of Dellal, and seemingly, neither can top designers. Dellal has been in demand as much for her looks as her offbeat style this year. The beginning of 2012 saw Chanel unveil the campaign for their boxy "Boy" bag using Dellal as the face of the luxury French fashion house.
While her punk-rock image was seen in the Marc by Marc Jacobs Spring campaign earlier this year, which made quite the contrast to using Elle Fanning in his last ad.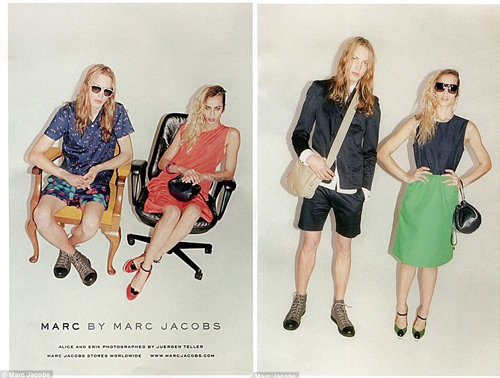 But for the here and now, Dr. Martens have just collaborated with fellow Brit and longtime Dr. Martens fan, Dellal along with another edgy blonde, to appear in its Fall campaign. Take a look at the starlets in action, in London.
What do you think about rockstar model Alice Dellal?