Model of the Week
Victoria's Secret Angel Erin Heatherton | FashionTV's Model of the Week
One week she's topping Vogue's Best Dressed list, the next shes getting ready for Victoria's Secret Fashion Show, and this week American beauty Erin Heatherton is FashionTV's Model of the Week!
Age: 23
Signature look: Blond locks, freckles, and tiny bikinis
Reputation: She is described as the 'geeky Angel' by her fellow Victoria's Secret supermodel pals.
Fashion Fact: Erin doesn't like editors using Photoshop to erase her freckles, but admits the results are pretty satisfying!
This week we've spotted her looking super sexy in a red Michael Kors dress at the Golden Heart Awards, read about her fitness regime before the big Victoria's Secret show in December, and ogled at snaps of her and model-hooked boyfriend Leonardo DiCaprio looking all loved-up on their bicycles. But now it's time to take a look back at the gorgeous Angel in model action!
Model Moments
The 23-year-old blonde bombshell from Skokie, Illinois was scouted while she was on a trip to South Beach, Miami and was quickly signed up to Marilyn Agency. She got her big break when she appeared in New York Fashion Week for Diane von Furstenberg's Spring 2006 show. And since then has appeared on endless runways for big names like Valentino, D&G, Carolina Herrera, Prada, Christian Lacroix, Moschino, Jason Wu, and many more.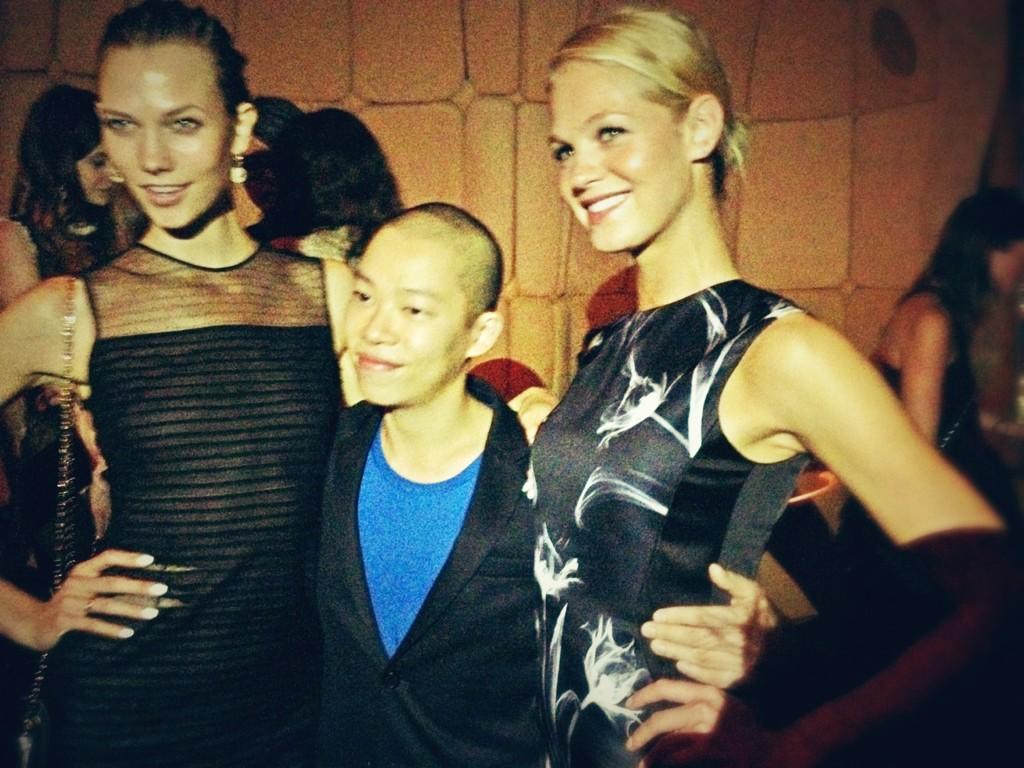 Heatherton backstage at New York Fashion Week with designer Jason Wu and Karlie Kloss @ErinHeatherton
But it was Heatherton's 2008 appearance on the annual Victoria's Secret fashion show that brought the Illinois beach babe to the attention of the world, awarding her the fashion industry's alternative to an Oscar -- Angel status! With which came a huge fan club following.
"It's surreal even now to be a Victoria's Secret Angel," Heatherton said, speaking to FashionTV's Hofit Golan. "I could never imagine I was going to be an angel and now I am!"
Erin Heatherton speaks to FashionTV presenter Hofit Golan about life as an Angel
But that's not all she is! Last year, Heatherton became the face (and body) of John Galliano underwear line, with previous years seeing her exquisite look fronting the Valentino Rock 'n Dream fragrance campaign, as well as Dolce and Gabbana's Fall 2007 glamorous ad, where she's pictured dressed to the max in a striking red fur coat.
Meanwhile, Heatherton's cover status has seen her face grace the front of i-D Magazine, Velvet, Muse, Rush, and Italian Grazia. While her editorial successes have included spreads in endless glossies.
Heatherton Now
Erin Heatherton really is the ultimate role model! Not only has she bagged herself the one and only Leo Di, but she is also big on the charity scene, often seen attending gala events and the supermodel SoulCycle Charity Bike Ride.
Heatherton models Victoria's Secret swimwear for Spring 2011
Heatherton has the perfect beach-babe body, which she puts down to her healthy diet, trainer Justin Gelband, and running and yoga regime. So it seems even the hottest of models have to work hard at keeping their bodies in shape! And Heatherton's workout and beauty regime is sure to be in full swing as she prepares for the sexiest day of the year... yes, we've said it a hundred times... Victoria's Secret Fashion Show!
---
For more Top Models go to fashiontv.com/top-models!