Dear music lovers,
I wish you a sunny Thursday morning!
Today's story's about one of my favorite female vocal artist and actress of present, Selena Gomez, and her fashion tip for this summer, published in "Vogue", July 30th 2018.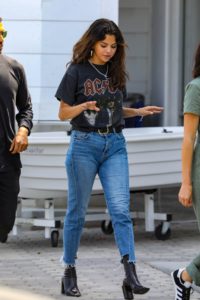 When Selena Gomez loves a trend, she goes all in—especially when it comes to denim. Though the pop star's wardrobe is filled with a variety of shades and washes, one cut has emerged as her favorite: the step hem. An early adopter of the look—short in the front, long in the back—Gomez has been spotted wearing it countless times this summer. Whether paired with blouses, over sized sweatshirts, or lacy tanks, the style has allowed Gomez to make even her simplest looks visually interesting.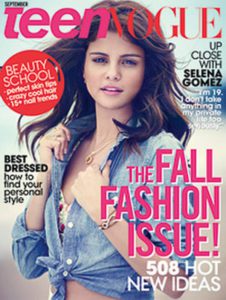 Yesterday morning in Santa Monica, Gomez demonstrated that by pairing a vintage-inspired AC/DC T-shirt from Brandy Melville with 7 For All Mankind's Josefina high-waisted jeans and a pair of Balenciaga's square toe ankle boots. The combination merged several of Gomez's current obsessions—concert tees, Jennifer Fisher hoops, and luxurious heels—into a cohesive look.
While Gomez's preferred denim tends to come from premium brands like 7, McGuire, and Re/Done, you don't have to splurge to get the same effect. A pair of scissors and a little know-how are all that's required to update an old pair of jeans. It's a hack worth testing out this summer—and thanks to its built-in boot-friendliness, it will be equally versatile come fall.
Whenever your ready come and get your Denim Look.
Selena Gomez vs. her long term lover Justin Bieber. Who's better?
Ten guys Selena Gomez has dated. If you want to be 11th, put your old blue jeans on!
Here's a clip of FashionTV, the biggest TV and OTT network in the world dedicated to fashion & lifestyle,
featuring Selena Gomez in a fashion photo shoot with star photographer Bay Garnett in London.
Here's a very brave video considering how sex in the US is still a taboo topic compared to Europe.
However not so much Denim covers her skin in this  encouraged video. Maybe an alternative trend for this hot summer?
And here's the bonus track of today, Selena Gomez's long term lover Justin Bieber featured in a brand new video
of DJ Khaled released end of July 2018. After "U2" produced by David Guetta ft. Justin Bieber and in their new video gorgeous "Victoria's Secret Angels" it bacam a real trend in the DJ business to record with Justin.
I wish you a happy Thursday and come back soon with the next story about fashion & music.