Dear music lovers,
I wish you a very happy Wednesday morning!
The story of today's about DJ Superstar Paul Kalkbrenner.
WHO IS PAUL KALKBRENNER?
Paul Kalkbrenner, one of techno's biggest superstars. This international talent has already made 7 studio albums and has more than 2.4 million Facebook fans.
The impressive artist started as a DJ in local youth clubs. But as much fun as that was, Paul really wanted to play his own music live. Eventually, his first tracks were released on Ellen Allien's BPitch control label in 1999. From the beginning, his music had its own character. Where techno was more dark and monotone at that time, Paul's music was melodic and warmer.
In addition to being a famous artist, he has also made his debut as an actor. You may have seen him as Icarus, in the film 'Berlin Calling' that came out in 2008. He also produced the music for the film, together with his brother Fritz. Together, they have written and produced the title song, Sky And Sand, which was a real hit.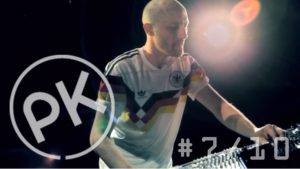 KALKBRENNER & SPORTSWEAR
Have you ever noticed that Paul Kalkbrenner often wears a sports shirt when he's performing? Sports shirts really have become a characteristic of Paul Kalkbrenner. His fans even bring them to his performances.
Paul Kalkbrenner was one of the many artists to produce music for FIFA 17. The music is selected in a way that you may find a new favorite artist. If you're a real FIFA player, you must have heard Paul Kalkbrenner's "Scream".
And here's Fritz and Paul Kalbrenner's biggest success, "Sky & Sand".
Here' s Paul Kalkbrenner's "Feed Your Head" – 12,5 Million YouTube views.
I wish you a successful Wednesday and come back after tomorrow with a new story