Dear music lovers,
I wish you a very sunny and relaxed Saturday mornin!
A hot summer weekend started.
One reason more to supply you with a hot summer story today.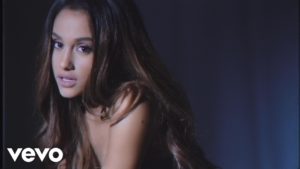 As announced on Billboard already on Monday, April 30th, the Billboard Hot 100 chart welcomes four new entries into its top 10: Ariana Grande debuts at No. 3 with her new single "No Tears Left to Cry," while J. Cole notches an unprecedented trio of top-tier bows with "ATM" (No. 6), "Kevin's Heart" (No. 8) and "KOD" (No. 10).
Finally Ariana Grande is the cover star of the July 2018 issue of British Vogue. Photographed by Craig McDean and styled by Kate Phelan with hair by Chris Appleton and make-up by Mark Carrasquillo, Grande wears a Chanel autumn/winter 2018 lace dress with jewelled straps for her newVogue debut.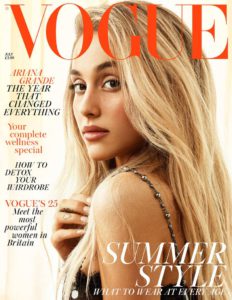 Inside the issue, the popstar and social-media titan shares details of her difficult and transformative past year with Vogue's Giles Hattersley, including how she coped with symptoms of post-traumatic stress disorder in the wake of the Manchester bombing. "It's hard to talk about because so many people have suffered such severe, tremendous loss. But, yeah, it's a real thing," she says. "I know those families and my fans, and everyone there experienced a tremendous amount of it as well. Time is the biggest thing. I feel like I shouldn't even be talking about my own experience – like I shouldn't even say anything. I don't think I'll ever know how to talk about it and not cry."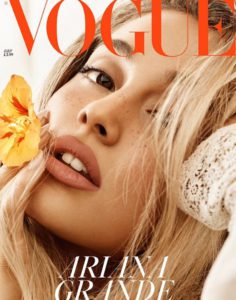 At home in her curiously decorated mansion in Beverly Hills, she goes on to give Vogue a preview of her fourth album, Sweetener. "I think a lot of people have anxiety, especially right now," she says, as a pounding song concludes. How is your anxiety, Hattersley asks? "My anxiety has anxiety… I've always had anxiety. I've never really spoken about it because I thought everyone had it, but when I got home from tour it was the most severe I think it's ever been." She was back in the studio the day after finishing her concert commitments in Asia, South America and Australia in September 2017, a decision, that is, she explains, down to being a workaholic. "Everybody thought I was crazy when I got home and wanted to hit the ground running."
And here's her new hit ft. Nicki Minaj.
Is she the favorite of our "BACKSTAGE" competition?
Find out more in my next story!
And here' s the bonus track of today featuring another favorite.
I wish you a  hot summer Saturday, please stay connected!